Closed Cell Spray Foam Insulation
In today's competitive building/development market, designing and building a unique style of home or commercial project is not enough to guarantee project success. Customers in all climates also demand a level of perfection in the comfort, efficiency and longevity of the structure once they move in. With the help of Closed Cell Spray Foam Insulation you can now achieve all of these, simply, with one product. Closed Cell Spray Foam Insulation technology is unequaled in today's market.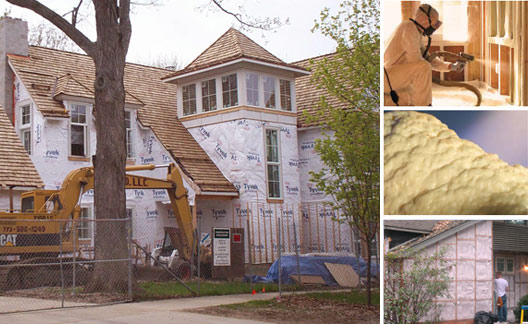 HOME BUILDER BENEFITS
Highest R-value per inch
Flexibility in framing package
HVAC equipment downsizing
Construction simplification
Fast installation
Wide range of applications
HOME OWNER BENEFITS
Higher energy efficiency
Enhanced structural integrity
Improved indoor air quality
Increased moisture and condensation control
Better sound barrier
Closed Cell Spray Foam Insulation is an insulating, spray-in-place polyurethane foam. This type of material has been used for years in thermos bottles, refrigerators, commercial freezers and coolers. Closed Cell Spray Foam Insulation provides the ultimate in insulation performance:
Extremely high R-value
Air infiltration and intrusion control
Moisture control in building cavities
Air convection control


Closed cell spray foam, to my knowledge, is the only FEMA-approved insulation
typically used for cavity insulation in hurricane areas. This is because it does not store water !!!
Closed Cell Spray Foam Insulation has the highest performance R-Factor achievable for an insulation product on today's market. This innovative product isolates the indoor and outdoor climates apart, stopping air movement, controlling moisture condensation and movement within walls and roof cavities, and the occurrence of dangerous mold.
There are other advantages for you, the architect, builder, developer or building owner. Because Closed Cell Spray Foam is a self-hardening spray-on insulation, it has unique characteristics in that it cannot shrink nor settle and is permanently attached. You can also have full design and construction flexibility because a 2×4 wall will provide super efficient insulation performance, which means that you are not constrained by excessive wall or roof thickness requirements. Additionally, cathedral ceilings and roofs with Closed Cell Spray Foam require no venting.
This high performance insulation and climate separator also enables you to build stronger structures. Because of its ability to fully adhere to the structure, forming a solid mass between studs, the building becomes extremely stiff and strong. The concept is much like completely gluing every piece of the house or building frame together. Providing up to a 150% improvement in the racking strength of your walls!!